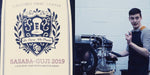 Callum appearing at UK Barista Championship 2019
Theme of routine: In wine (which is another passion of Callums), regions, chateaus and domaines are celebrated for showcasing grapes in an expression that reflects the grapes natural flavour and the terroir. A perfect example of this is in Burgundy, where Grand Cru vineyards are praised for showing the pinot noir, a noble grape at arguably its best.
"This made me think, how can I apply this to coffee? In competition we celebrate innovations in processing and growing unique varietals in different parts of the world, but what about celebrating the old world, its terroir, the coffee varietal and the processing."
Country: Ethiopia
Region: Guji
Farm: Sasba Washing Station
Lot: Zorro Micro Lot
Altitude: 2150 masl
Varietal: Heirloom
Process: 72 hour fermentation and 15-20 days drying
Recipe: 18 grams of coffee - 30 second extraction - 40 grams of espresso in the cup
Why is this coffee so special?
It's a classic example of high quality Ethiopian coffee.
Espresso tasting notes:
Lime zest - Fermentation creating lactic acids
Milk chocolate - Minard reactions developing caramelised sugars during roasting
Blueberries - The drying creating fruit flavours
Bergoment - Floral notes able to express thanks to the altitude providing a clean cup.
Milk tasting notes:
White chocolate
Praline
Lavender
Signature Drink:
"In the quest to make a signature drink that not only showcases this great coffee, but brings two innovations I've experienced in both wine and coffee to you today, I've developed a drink that is evocative of a sparkling red wine and also a nitro infused coffee."
Ingredients:
3 shots of espresso
20g of blueberry jam (seedless)
40ml of blueberry juice
120g Ice
1 lemon peel
7.5g Nitrogen charger
Method:
Add all the ingredients into a cream shaker before charging with the nitrogen shake for 10 seconds to cool the ingredients allowing the nitrogen to bound better. After 10 seconds add the nitrogen and shake for 5 more seconds.
I dispense a small amount of unstable foam into a waste vessel to allow any excess gas to dissipate and then serve into wine glasses
Tasting notes:
Orange, Thyme, Red Grape, Swiss Chocolate.