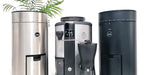 by Callum
I've had the pleasure of playing with and comparing this home grinder line up for a number of weeks. I must confess, I have owned a Wilfa Uniform+ for almost a year and it's been a strong ally for home brewing and taking on the road for tastings. Aside from this, I've always had a Hario hand grinder for my personal travels.
We do supply Wilfa and Hario at Fire & Flow, but the companies ask me to write reviews of their products as they know I will tell it how it is, hence, I will attack these reviews with fresh eyes and no bias towards all options.
I have taken each grinder through every method of brewing that it was designed to grind for. Using Fire & Flow Aurora coffee and the same recipe for each brew method allowed me to keep full control over brew quality during the weeks of testing. I've used the Wilfa Svart preset grind sizes as my scale for grind size across all the grinders to keep a fair test.
Let's start at the top of the range and work our way down...
Wilfa Uniform +
(Wilfa Uniform flat burrs and scales)
Quick Facts
58mm flat burrs
Huge grind range from cafetiere down to espresso
Matte black finish
Solid build quality made from steel and aluminum
Scales built into hopper lid
Bluetooth capabilities so you can use with app
What I Love
The massive grind range means I have no limits on my home brewing choices for the future. If you're a home barista and know you'll get sucked down a rabbit hole into investigating more home brew methods (namely espresso), then you won't find a more adaptable grinder that is both future proof and good value for money.
Comparable filter brew quality to commercial filter grinders.
As I mentioned, I've actually owned this grinder for almost a year. It sits proudly in the corner of my kitchen but also it's been slung into my bag a number of times for tastings on the road. Its ability to grind fine enough for espresso on a commercial machine is a handy sales tool!
It grinds fine enough to pull decent shots of decaf espresso as well; so if you're a cafe looking to step up your decaf game then this is a great step forward (you'll need the scales to weigh doses though).
It's pretty quiet so won't wake the house up - always a bonus!
What I Don't Love
Made for someone who wants to weigh for accuracy - there's no built in grind timer, so if you're happy to weigh each dose then there's no problem.
It is stepped, so if you're brewing for espresso at home you may need to manage the other variables to nail the extraction if you can't get the grind spot on. I found between 1-3 was the range for espresso grind so you don't have a huge window for grind size.
The scales are not rechargeable and don't have a timer built into them, so you can't time your brewing (unless you turn on the app).
Over time my grind adjustment seizes up so I had to lubricate the threads (easy to do if you're confident). But I would say either it needs to come with a spare pack of lubricant or you could invest in some (for the love of god please don't use WD40 or 3 in 1 oil).
It's a slow grinder which is great if you want to reduce heat build up but if you're looking for a speed the Svart is twice as quick.
Auto switch off is slow to respond.
Grind collector could do with an engage switch (I've turned it on a few times without thinking in my morning daze).
Removing the grind collector can get a little chaffy from some static build up.
The matte black coating chips off around the coffee container over time.
I'll conclude that this is a fantastic grinder (I'm just being picky) and honestly for the price, I think you'll struggle to find something with as much range, build quality and ability to give you a decent extraction. Mine has been a gem and helped my business grow with the ability to take it on the road with me. The small problems are not enough to put me off especially if you're more than happy to open an app on your phone to time your brews, or wait that little bit longer for your coffee to grind so it's not overly loud. If you brew espresso and filter at home then this is a solid investment.
Wilfa Uniform
Extremely similar to the + minus the scales and this has a stainless steel finish.
My views on this grinder are pretty much as above minus anything to do with scales. If you already own a set of 0.1g accurate scales with timers then save yourself a few ££ and invest in this if home espresso and other brew methods is your game. I honestly think you'll be over the moon!
Wilfa Svart - Wilfa Silver
(Wilfa Svart conical burr)
Quick Facts
Conical burr
Filter grind range only
Timer built in
Plug and play
What I Love
It's very obvious what each grind is and I personally don't veer off from these as they're pretty spot on - I've used them as my bench mark for setting the other grinders during this review.
Comes with a grind timer so you can set it to give you roughly the correct dose if you don't fancy weighing your coffee each time you brew.
Quick grind time and a fairly even grind size for a conical burr.
Feels great for the money in terms of grind quality and build quality.
Small footprint.
Light and portable could easily take it around on a staycation!
What I Don't Love
It's louder than the Uniform.
Conical burr does not give you the brew quality that flat burrs do. I felt the brews had marginally less body and lacked complete roundess. (Although I drink filter everyday so I'm pretty fussy here!).
Does not grind for espresso so if you think you'll get absorbed into home brewing more, you're best to look at the Uniform range.
I find that getting the grinds into your brewing equipment can be a bit fiddly. The coffee grinds don't pour out that nicely from the grind collector (especially into the top of an aeropress if, like me, you lost the aeropress funnel).
If you don't have any plans to brew espresso at home and you're looking for the perfect grinder for filter; whether you're an experienced barista or someone just getting into brewing at home, this grinder is a solid investment. I'm very impressed with the value for money. Personally, I would not use the timer and just invest in a set of decent 0.1g scales, as this will still take you well under the price of a Uniform, but still give you the ability to brew top quality coffee at home (if you have some great coffee to start with... naturally!).
Hario Mini Slim +
Quick Facts
Ceramic conical burrs
Super lightweight and portable
Click wheel grind adjustment
Holds roughly 24g of coffee in the top chamber
What I Love
It weighs nothing and can fit in your bag no problem, so perfect for taking anywhere.
Brew quality similar of the Wilfa Svart.
Ease of setting up out of the box.
It's a satisfying ritual.
Surprisingly large grind range (if you can hack the time to grind for espresso).
Feels great in your hand that is securing the grinder.
Looks great.
What I Don't Love
The crank doesn't fit that well on the drive shaft. It would be nicer if it locked in place a bit more, perhaps a torx style locking design.
You'll have to get a reference point for your grind sizes if you use various brew methods. Work out how many clicks back to get your desired grind size from the zero point. So not that friendly if you like to vary your brewing technique.
The handle on the end of the crank could be a bit nicer to hold, perhaps if it was a ball shape it would fit in your palm more comfortably.
I've owned one of these since I first got into coffee a fair few years ago and it has taken many trips around the world with me. I think all in all, it's really fantastic for the cost, and if you're still buying pre-ground coffee, give this grider a go and step up your home brewing game!
If you only have one brew method at home, once it's set you're good to go day in and day out. Of course, hand grinding takes a bit longer but no longer then the kettle takes to boil (if you're grinding for filter).
What would I buy?
As someone who doesn't brew espresso at home, I would have to say the Svart with a set of 0.1g scales with a timer is a set up that's going to be pretty tough to beat in terms of quality and financial investment. It's incredibly user friendly, quick and the coffee quality it can help produce is pretty much top level. A seasoned barista who is looking to brew more at home, or someone who is getting their feet wet in the coffee world and wants to bypass hand grinding would need to look no further.
If you're looking for a grinder that caters for all your needs at home and you own an espresso machine, get a Uniform and buy a set of 0.1g accurate scales with built-in timers!
Happy brewing!
The recipes for all the brew methods can be found below.
V60
15g of coffee (dry dose) for 250ml of brewed coffee. See our blog on how to brew.
Cafetiere
30g of coffee for 500ml of brewed coffee. See our blog on how to brew.
Aeropress
15g of coffee (dry dose) for 250ml of brewed coffee.
Brew Inverted and have a washed filter paper ready.
I add 50ml of water stir 5 times all whilst its blooming for 30 second bloom.
I then add another 50ml of water stir 5 times and leave for a further 30 seconds.
Add the remaining 100ml of water.
Add the filter cap.
Flip onto cup and spin the aeropress a few times to make sure you wash any coffee that is stuck to the plunger back into the brew water.
Push for 30 seconds.
Moka Pot
My moka pot fits 15g of coffee (dry dose) once leveled off and holds 200ml of water in the base so that's the recipe I'm going to stick with.
Boil the kettle and fill the bottom chamber to just reach below where the basket would sit when in the pot.
Grind the coffee to a grind size between filter/espresso (similar to caster sugar) enough coffee to fill the basket once leveled.
Level the basket but don't push down.
Bang it all together and stick it on the hob on a medium heat with the lid open.
Slowly crank the heat up over a minute or so until you can hear it boiling.
Then slowly turn the heat down as the coffee brews into the top chamber.
Control the heat to try and keep the flow consistent.
Once you can hear the sound of air whooshing turn off the hob.
Flick the lid down on the moka pot and serve.
Espresso
1:2 ratio in 25-30 seconds…..(you heard this recipe here folks!) I performed this test on a commercial espresso machine so I imagine a home machine will be no problem.