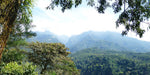 Technical answer
Coffee beans can be graded out of 100. This grading process is called "cupping" and is carried out by a licensed Q-Grader. According to the Specialty Coffee Association (SCA), specialty coffee is a cup score of 80+ points.
If you ask us
Along with a good cup score, to us, speciality coffee is coffee with full transparency back to farm. Making sure the farmer is rewarded above and beyond market price for the time and energy that goes into growing speciality coffee is vital. These amazing plants require constant love and attention to make sure they produce the healthiest and highest quality fruit. This requires a tremendous effort from the farmers who dedicate their lives to producing this delicious beverage for the world to enjoy!
Ethical sourcing of speciality coffee
Making sure that the farm owner is well rewarded for their efforts is only one part of sourcing responsibly. We like to make sure profits are being reinvested in the community and in support of the workers. The farms we work with reward their teams well with good pay, by building schools, supporting and promoting education, providing access to health clinics, building community hubs and more, ensuring that everyone in the trade is well supported. There's no excuse for anything less, and it can't be denied that happy and healthy people pick the best coffee :)
Looking after the environment and local biodiversity is also equally important when sourcing speciality coffee beans. We always make sure that the farmers we partner with understand the importance of environmental responsibility. The farms that we work with have the following initiatives for example:
Built a water wheel to get power from a local river which generates 90% of the farms used power
Working around and planting wild trees to help protect biodiversity
Woodlands and wetland areas covering large percentages of the farm area helping maintain local biodiversity
Streams covering a large proportion of the farm offering a valuable source of life for the many plants and animals on the farm
Use of organic farming methods and the creation of organic 'homemade' fungicides
Recycling all coffee and water waste products to minimise the environmental impact
Look for the story behind the bean
All in all, speciality coffee is being able to look further than the country of origin - it's the discovery of the story behind the bean. As suppliers of speciality coffee it is our responsibility to deep dive into the backstory and ensure that the growers ethics and values match our own.
This means that we can trace back to the exact farm/lot that the coffee was grown at, learn more about all the great impacts that the farmers are having at a local level and share their story with our customers and partners. With your support, we can have a positive impact in working with and promoting the highest quality, ethically and environmentally-minded producers, demonstrating that any less just isn't good enough.
Transparency is key
For us transparency is key and we will continue to bring you the story behind every bean used in our coffees. By doing so, we hope that we can bring our customers and partners closer to the community of growers, to learn more about the art that is growing and producing the best speciality coffee beans.