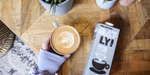 by Callum
The plant-based movement is growing quickly, and we know it's here to stay. Many of the coffee shops that we work with are now reporting that nearly half of all coffees served are now with plant-based milk, namely oat (Oatly, Minor Figures and PureOaty by Glebe Farm Foods to name a few dominating this market). As coffee roasters, we believe that when it comes to the development of new and exciting coffees, plant-based milks need to have more of a say during this process, as they are often overlooked.
We are therefore so excited to introduce you our new coffee, 'Ignite' – specifically sourced and blended to work beautifully with plant-based milks. Along with this, all of the new coffees that we release as a roastery will now come with oat milk tasting notes to help make the choice of oat or dairy a little easier.
As vegan owners of a coffee roastery we know the great plant-based flat whites from the not so great. We have studied what can affect both the flavour and texture when the espresso meets plant-based milk, and there are more variables than you may think! We've spent lots of time (great times to be fair…) slurping our way through different coffees from all over the world, and blending these coffees in different combinations in order to nail the perfect coffee for plant-based drinks.
We set ourselves the task of developing this coffee to work perfectly with the most popular milk alternative (oat milk) with the ambitious aim that our customers wouldn't be able to taste the difference from a dairy-based coffee. Following this, we ensured that the coffee also paired seamlessly with the next most popular plant-based alternatives – soya milk and almond milk.
We weren't only looking for flavour, but also for good farm ethics, sustainable practices and of course, a coffee that would work well for both a coffee shop barista and a home barista. Once we had settled on the origins of the coffees (see below for the story behind our beans) it was time to fire up the roaster and start the next exciting step in the development – getting the roast profile right.
We typically find most plant-based milks are higher in acidity, so our aim was to balance the acidity of the coffee during roasting, whilst still keeping enough for the espresso lover… If you don't get this right you can end up with a sour coffee (mix that with under extraction, adding even more sourness, you will be crying into your cup).
With the full body and sweetness of plant-based milks we knew that we needed to make sure the coffee would punch through the milk, but without over-roasting and bringing out the less desirable tasting notes. This is why we selected particular coffees with high notes of chocolate (our Ugandan coffee) and a delicious sweetness (our DR Congo coffee), so that the beans natural flavours would shine through. We decided to pair this with a coffee with a fantastic nutty flavour to round it off (in this case our Brazilian coffee).
With this trio of coffees, we had landed on our new blend, Ignite, which was precisely developed for enjoying with oat milk, but still fantastic for dairy and other plant-based alternatives. We think it's everything we've ever dreamed of in a cup – try it yourself!
Ignite Oat Milk Tasting Notes:
Ignite oat flat white - Caramel, Dark chocolate & Macadamia
Ignite Dairy Tasting Notes:
Ignite dairy flat white - Chocolate, Plum & Treacle
So, what makes up Ignite and why those coffees?
We love working with farmers that not only support their valued workers, but also the environment around them. Having a holistic approach and working in harmony with local biodiversity goes a long way to growing best-in-class speciality coffee.
Country: Uganda 50%
Region: Kasese,Rwenzori
Process: Fully Washed
Variety: SL14 & SL28
Altitude: 1,600 - 2,000 masl
Grown in the magnificent Rwenzori Mountains (known as the 'Mountains of the Moon') where the high altitude, fertile soils, plentiful rainfall and natural shade from the surrounding banana trees provides the perfect conditions for growing coffee.
For Bakonzo farmers, the coffee crop income allows them to support their families and develop their homes. On average, each farmer works a plot of approximately 2 acres, with the farm work being done by hand. Bakonzo farmers group together to process and market their coffee, in an approach known as 'share farming.' This practice helps them to improve their processing, quality and marketing effectiveness.
This coffee adds the delicious chocolate notes and the perfect amount of strength needed to shine through plant-based milks.
Country: DR Congo 25%
Kirindera Women's Peace Coffee
Co-op: Coopade Kirindera
Process: Fully Washed
Varietal: Blue mountain, Katwai, Rumangabo
Altitude: 1,300 - 2,100 masl
Kirindera Women's Peace Coffee by the Coopade cooperative was developed to support the livelihood of women and their families living on the borders of the Virunga National Park. Growing coffee enables them to employ young people and provide them with an alternative so that they are no longer drawn to join the armed groups that are destabilising the National Park.
Part of the Coopade cooperative, this is the first time that women's coffee has been processed and exported separately, and it was aptly named 'Women's Peace Coffee' by the women producers. The cooperative also helps to protect the endangered lands and wildlife in the area, including the last remaining wild mountain gorillas!
This very special coffee adds high levels of sweetness with buckets of caramel notes.
Country: Brazil 25%
Farm: Fazenda Do Salto
Process: Natural
Varietal: Yellow Bourbon
Altitude: 1080-1140 masl
Dr Fabio Araujo Reis runs his farm as a family business with his two sons and daughter (who also runs a small roastery on the farm) in the Sul de Minas region of Brazil.
Employing 35 local residents, their coffee is harvested mechanically and dried on 8 rotational machines and dryers, which maintain constant airflow with a combination of cold and warm air. Providing consistency and even drying allows them to produce fantastic results with high levels of clarity and sweetness in the cup. Along with this, 20% of the farm is protected to help maintain and preserve the natural environment and local biodiversity.
This delicious coffee brings with it that classic nutty flavour that Brazilian coffees are famed for.